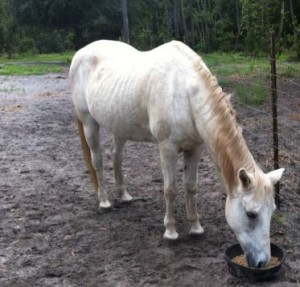 Breed: Paso Fino
Color: Gray
Age: 15+ years
Sex: Mare
Height: 13.0 hands (approximately)
Adoption Status: Available for adoption
Riding Status:

Pasture/ground handling only, not suitable for riding
Adoption Fee: TBD
Background
Eden is a beautiful little pony just right for an adoptive home that needs a companion for existing horses or is looking for a sweet pony to help mow the grass in their plentiful empty pasture!

Due to her age, Eden is permanently retired from riding, but loves to be groomed, petted and allowed to graze in open pasture. Eden most enjoys the pasture and a shelter from the elements she can enter or leave on her own. She does not do well in confined spaces or in a stall, but can be haltered and led around from the pasture. Eden is not a dominant mare and has lived without much incident with the resident queen mare of our rescue!
If you have the space for little Eden, or feel your horse would like her as a companion, consider being her adoptive family!